The Runaway
Selfie - cheerfully silly
Her Inner Light - God. And faith that things will work out if I walk my path.
Her message to women everywhere - "We are beautiful creatures. We have only to discover and appreciate ourselves."
The first step she took was renting a storage unit, where little by little she brought over her belongings. "I knew I couldn't just take everything from home at once because my parents would get suspicious. And I'd never been allowed to travel alone before." For three months, she put her plan into motion, setting up bank accounts that could be accessible abroad, obtaining an international driver's license, purchasing airfare. On departure day, she left home with her camera, like it was any other day. Just before her flight took off from Hong Kong to San Francisco, she took a selfie and texted it along with a message to her mother. "I love you, but I want to live my life. I've tried to be the daughter you want. Now I have to be me." The day she ran away from home, Christina Szeto was thirty-three years old.
Before running away, Christina had a full, anchored life in Hong Kong. She grew up with a brother, who is her best friend. She was close to her grandmother, who is her heroine. She adored her parents, including her father who introduced her to photography, which became her passion. With her camera, Christina captured special moments for a wide circle of friends, a practice that grew her into a professional photographer. She had a mentor, Professor Freedom, who lit the way for her becoming a university-level photography instructor. But Christina's main work was in her family's electronics company, where she worked as an accountant.
It had always been expected that Christina would run the family business. She started working there when she was fifteen. She studied business and accounting to prepare for this work. After college, she joined the business full time and worked there for ten years. Christina worked hard and did what was expected. She says, "I was obedient, but I dreamed of a different life, exploring the world through photography." Time and again Christina spoke of her dreams with her parents, but they couldn't hear her. They gave her more responsibilities until she became the general manager and ran the whole company. Born and raised in a culture where filial piety remains a core value, Christina struggled between making her parents happy and following her heart. "The love and duty I held for my family and the urgency I felt to live my life tore me apart."
Christina recalls her long flight from Hong Kong to the United States. "For twelve hours I was a complete mess. I imagined my mom suffering a heart attack after receiving my goodbye message. I was terrified both of letting my parents down and the total unknown ahead."
Since she landed, Christina has not stopped building her new life. She established Christina Szeto Photography, specializing in family and children photography. Christina says, "Photography allows me to connect my heart to the world and with the people I meet." Through photography, she channels the familial relationships she holds dear, and her best work is in capturing bonds between loved ones in weddings, family occasions, and maternity portraits.
Christina is simultaneously building Photosprouts, which offers photography instruction to adults and teens. Photosprouts provides in-class workshops, photo field trips as well as the camera equipment for any level of photography enthusiast. Christina is passionate about helping people master the technicalities so they can find creativity through the lens. She says, "For me, the photo is a condensed version of relationships in the larger landscape. I want to help my students see themselves more clearly in a world with others." Through photography Christina connects with her students who can then amplify their connection with still more others. Shot by shot, each a beautiful mirroring, a whole picture emerges.
In a recent class she asks a student to locate a reflection. This field trip has brought them by an open waterfront framed by a majestic bridge. The student looks around — water everywhere but there's no reflection. Christina prompts gently, "Take a breath and step back. Where do you see a mirror image?" The student tries harder. There must be a reflection upon the water somewhere. There isn't. The student gives Christina a puzzled look. Christina smiles and playfully tilts her head away from the water towards a large puddle on the sidewalk merely a few feet away. Railings along the waterfront: Gridlines upon the puddle pane. Light comes over the student's eyes. And laughter. Christina says, "Photography is all about discovering what you usually miss. Now that your naked eye sees this puddle, let's set up the camera to see it too so you can capture just how you're feeling in this moment." The student does so eagerly. Christina slows her down only to say, "Look first for the light, always look where the light falls."
Christina's parents are coming around to her renegading the family business. They still ask when she will return to Hong Kong, but they are supportive of her ventures. Leaving home was Christina's first big leap. Now is hurdle after hurdle of starting two business entities as a foreigner under unfriendly immigration laws. Staying in Hong Kong would have been easy. In this new life, nothing is. Yet Christina remains hopeful and passionate about connecting people through photography. "I'm proud that I've created my own way to see the world and live my life."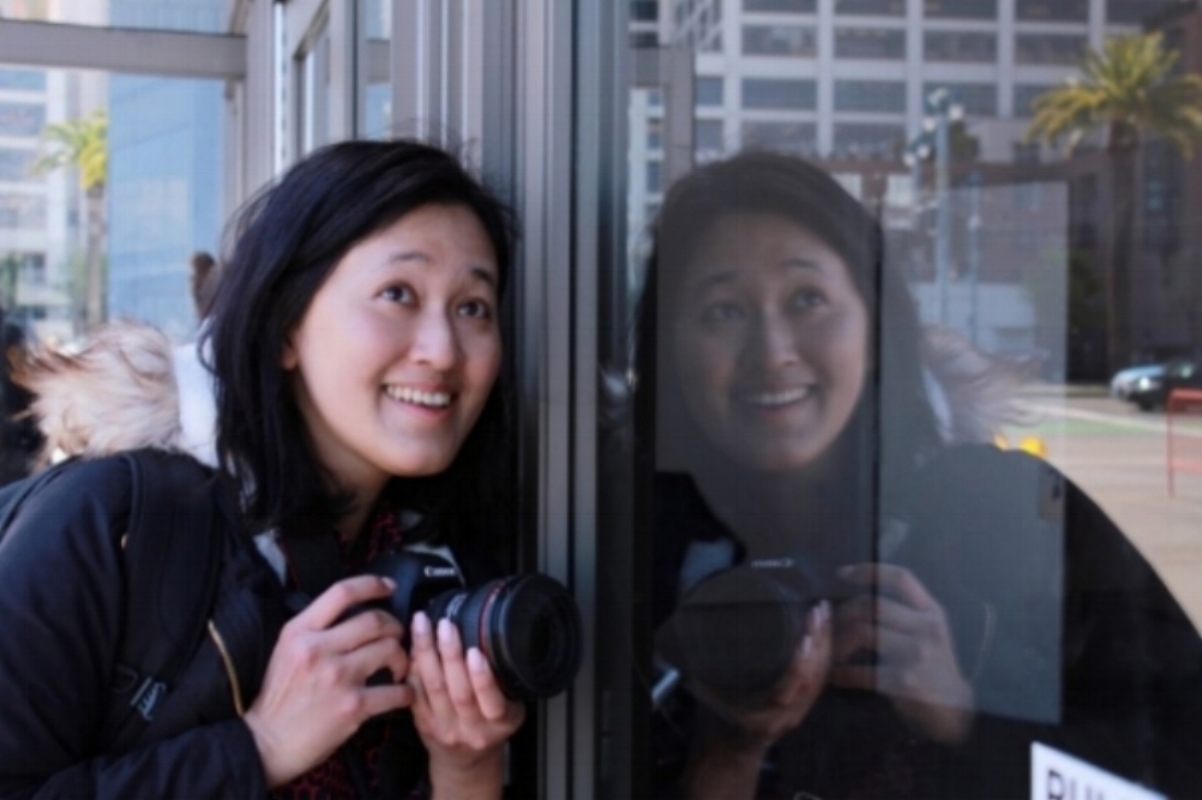 Photos taken of Christina by Photosprouts student